Since you all already know what a nerd I really am, I'm just going to continue with my geeking out. I'm a big fan of Top (Any Number) Lists and I'm also a big fan of the Game of Thrones. Since the first episode of season two of Game of Thrones is on Sunday, I thought I'd share my list of my favorite depictions of literary characters on-screen, since the characters are what make that show awesome.
5. Samwise Gamgee portrayed by Sean Austin in the Lord of the Rings Trilogy. This might surprise Lord of the Rings fans, as most prefer some of the other more notable characters, and also surprise some of my friends, as I've been known to obsess over Orlando Bloom, but Sam is such an endearing character; he's proof of the importance of friendship. I thought Sean Austin really perfected the character and I have no complaints about his performance.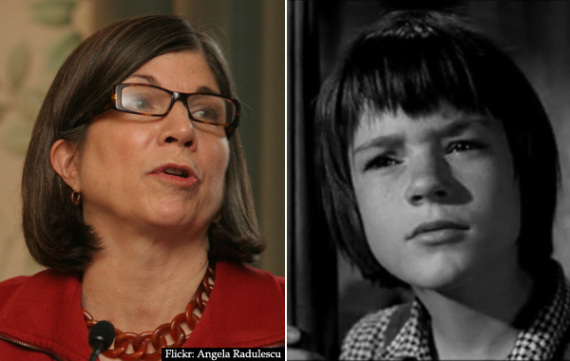 4. Scout portrayed by Mary Bedham in To Kill A Mockingbird. Scout is one of my favorite characters of all time. She's an awesome kid, with her sweet and thoughtful innocence. The movie from 1962 is possibly the best book-to-movie adaptation and Mary Bedham is the perfect Scout.
3. Colin Firth as Mr. Darcy in the 1995 mini series, Pride and Prejudice. One of the first times I spent with my aunt and uncle in Montreal as a teen, I told my aunt how much I loved the book, Pride and Prejudice. We spent every night for the rest of my time there, watching the BBC Pride and Prejudice which she had on vhs (?). Colin Firth is Mr. Darcy. No arguing with me on this one. Seriously, he was an epic embodiment of one of my favorite literary leading men. And although he was incredible in the King's Speech, he will forever remain Mr. Darcy in my eyes.
2. Speaking of the King's Speech, Helena Bonham Carter was incredible in that film as well. She's always incredible, but no one could have portrayed Bellatrix Lestrange as well as she did. She's creepy, crazy, and somehow endearing at the same time. It didn't matter that appearance wise, she wasn't who I pictured for Bellatrix (I'm pretty sure I pictured a done-up version of my first grade teacher…), because her acting was so incredible and the way the make-up crew fixed her up was perfect. She made me love hating Bellatrix and that's why she made the list.
1. And my most favorite literary character turned on-screen-persona is Emilia Clarke as Daenerys Targaryan. Daenerys is not my favorite character from the books although she is high up there, but between the make-up, costume, and superior acting skills of Emilia Clarke, the Dany in the HBO series is by far my favorite literary character portrayed on-screen. I think Emilia Clarke did an incredible job portraying Dany in season one. From her sweet innocence at the beginning of the season, to her subtle realizations of her immense power throughout the season to the end when she displays strength in tragic circumstances, Emilia Clarke is one with my vision for Daenerys.
Which are your favorite portrayals of literary characters? And Who's excited for Game of Thrones?
Also, notice that no one from Hunger Games made my list… although I was very tempted to include Stanley Tucci as Caesar Flickerman.